Experience serenity on-the-go with our De-Stress - Stress Relief Roll-On. In the midst of today's fast-paced lifestyle, it's all too common to feel wound up and overwhelmed. But rest assured, We've artfully constructed a blend, tailored to meet your needs. Through a day filled with looming deadlines, bumper-to-bumper traffic, and a never-ending to-do list, find relief in the De-Stress Roll-On. This meticulously crafted pocket-sized support system becomes your trusted ally. it's a tangible escape, designed to be your source of repose wherever you are.
Regular price
Rs. 499.00
Sale price
Rs. 399.00
Unit price
per
You Save 20%
Sold out
View full details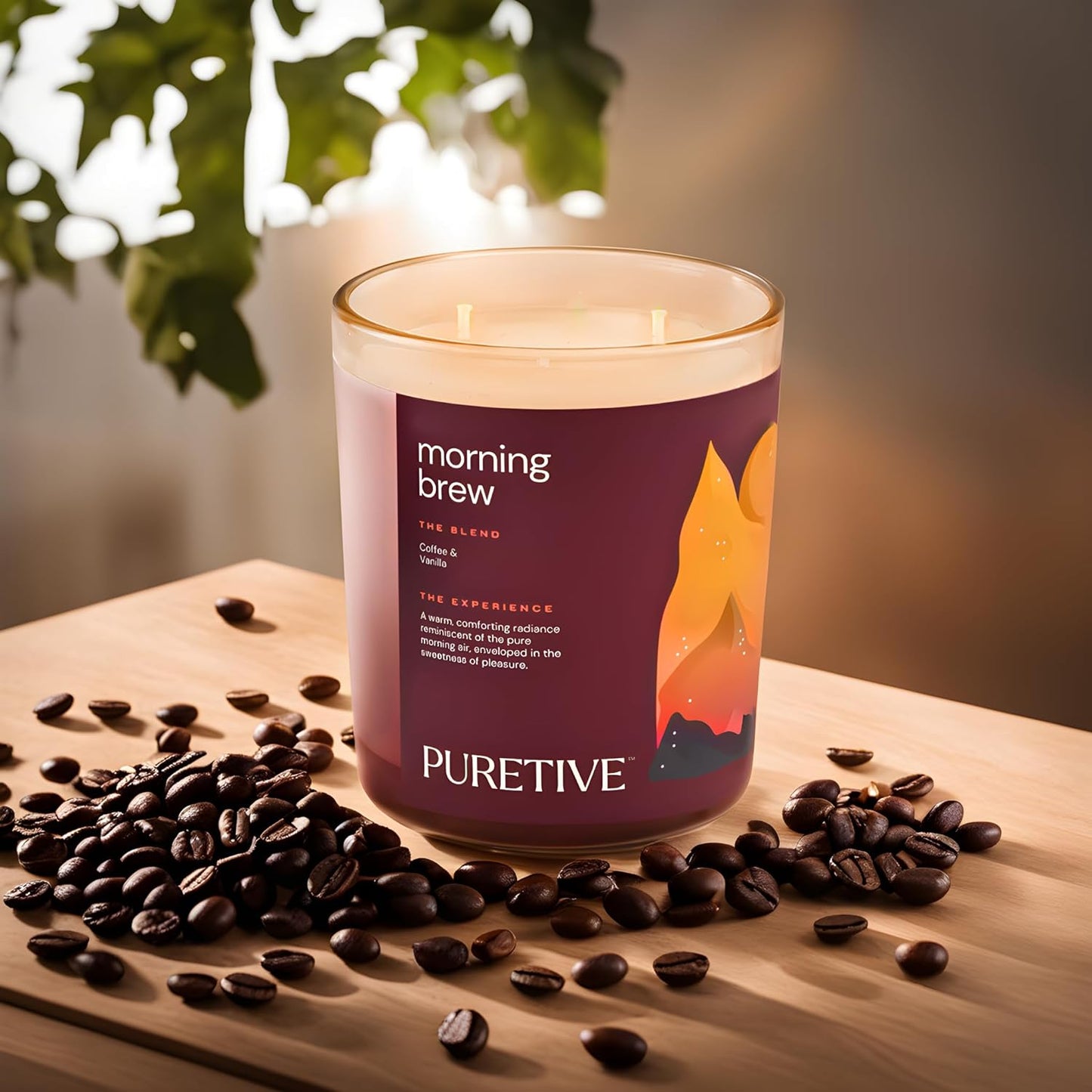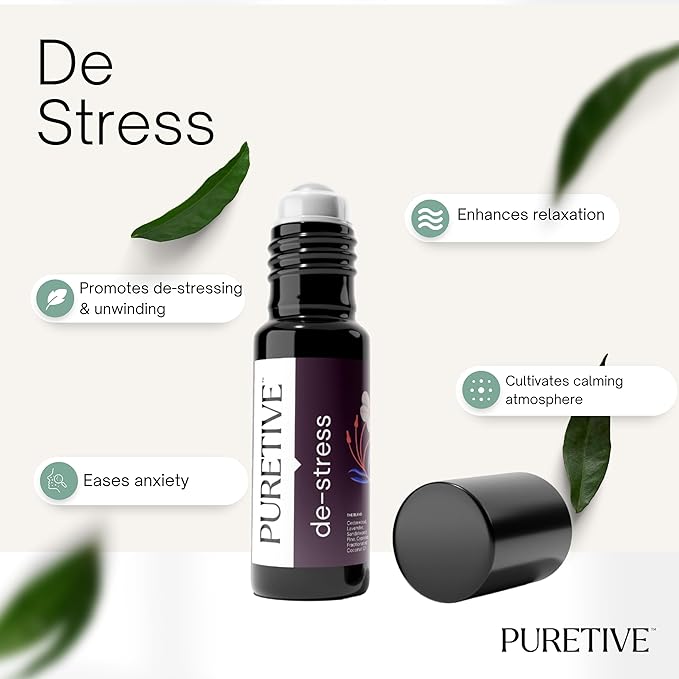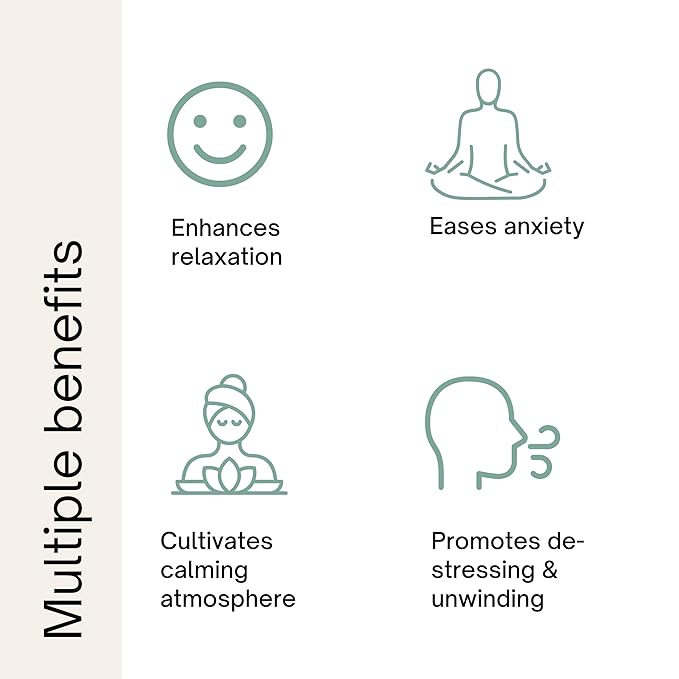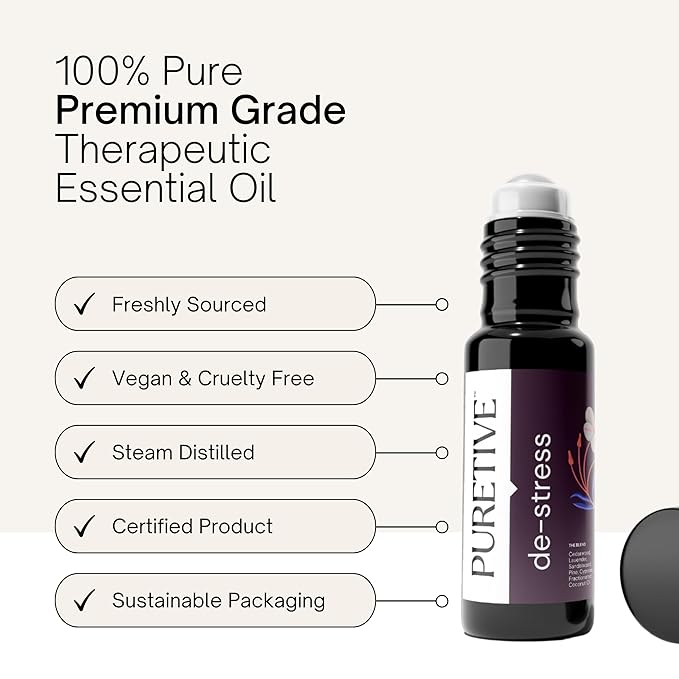 Unwrap well-being with Puretive Botanics
At Puretive Botanics, we embrace nature's gifts not only in our products but also in our eco-friendly packaging.
Every purchase is a step towards a greener, more harmonious Earth."
The Blend

Tea Tree: Soothes and purifies, clearing your mind and easing tension.
Lavender: The ultimate relaxation oil, promoting tranquility and inner peace.
Peppermint: Invigorates your senses and alleviates stress, offering a refreshing aroma.
Rosemary: Enhances mental clarity, focus, and reduces stress levels.

---

Key Benefits

Promotes de-stressing & unwinding
Eases anxiety
Enhances relaxation
Cultivates calming atmosphere

---

How its done?

Step 1: Prepare -Shake the roll-on gently if needed to mix the ingredients.
Step 2: Apply - Roll the applicator over your chosen areas, such as pulse points, temples, or wrists.
Step 3: Massage - Use your fingers to massage the oil into your skin for absorption.
Step 4: Enjoy - Inhale the soothing aroma and let it lull you into peaceful slumber.

Inhale the soothing aroma and let it lull you into peaceful slumber.

FREE OF: synthetics, artificial fragrances, and dyes, parabens, sulfates, phthalates, PEG, GMO, mineral oil, formaldehyde, petroleum, and fillers. CRUELTY-FREE

Warnings: For external use only. Avoid eye contact. Keep out of reach of children. May irritate the skin. If pregnant, nursing, suffering from a medical condition, or taking medication, consult a physician before using. Not intended for the face.
Best if used within 12 months of opening. Store in a cool, dark place for best results.

---
Always with me!
I keep this roll-on in my desk drawer for instant stress relief. It's a simple yet effective way to unwind.
Life saver
This product is a lifesaver in stressful situations.
Loved it!
The De-Stress Roll-On is my secret weapon for tackling a hectic day.
Instant Stress Relief!
The De-Stress Roll-On is my quick fix for stress.