Designed to alleviate muscle soreness and promote pain relief ,Recovery Mineral Bath targets post-workout fatigue, reduces discomfort, and helps you get back to your active lifestyle feeling revitalized.
Regular price
Rs. 699.00
Sale price
Rs. 599.00
Unit price
per
You Save 14%
Sold out
Share
View full details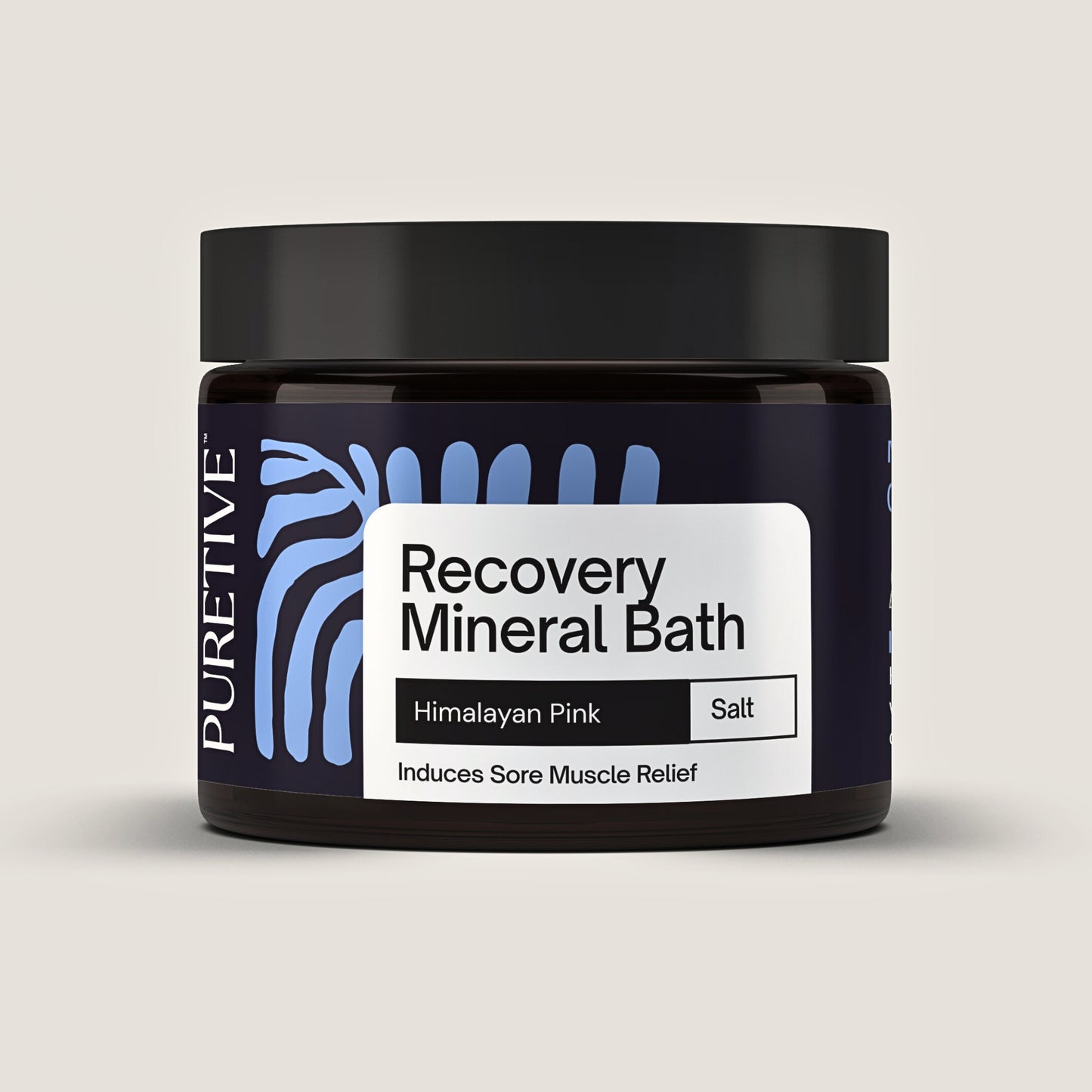 The Blend

Wintergreen Oil: Known for its soothing properties, providing relief from muscle and joint pain, acting as a natural analgesic, and offering a refreshing aroma.Eucalyptus Oil: Valued for its respiratory benefits, helping to clear congestion, ease breathing, and provide relief from cold and flu symptoms, while also serving as an insect repellent and promoting mental clarity.Arnica Oil: A natural remedy commonly used topically for relieving pain, reducing inflammation, and easing muscle aches and bruises.

---

Why Bath Salts?

Gently exfoliates the skin, removing dead skin cells and leaving it soft and smooth.Helps draw out toxins and impurities from the skin, promoting a detoxifying effect.Infused with essential oils, providing aromatherapeutic benefits that can relax or invigorate your mind and body.Help balance the pH of your skin, maintaining healthy skin.

---

How it's done?

1. Exfoliation Method

Step 1: Wet Your Skin - Use bath salts after your shower or bath to open up your pores.
Step 2: Apply & Massage - While skin is wet, gently scrub with bath salts, focusing on exfoliating areas.
Step 3: Let it Soak - Wait for 2-3 minutes for exfoliation and moisturizing.
Step 4: Rinse - Rinse with warm water to remove salt crystals.
Step 5: Pat Dry - Gently pat skin dry with a towel.
Step 6: Moisturize - Apply moisturizer to lock in hydration.

2. Bath or Foot Soak
Step 1: Prepare Bath or Foot Soak - Fill the tub with warm water to your liking.
Step 2: Add the Mineral Salt - Put 2-3 spoons of bath soak into the water.
Step 3: Soak & Relax - Ease into the bath for 15-20 minutes, relax, and let the soak work.
Step 4: Pat Dry - After soaking, step out and pat dry with a towel. Avoid rinsing.

---
Unwrap well-being with Puretive Botanics
At Puretive Botanics, we embrace nature's gifts not only in our products but also in our eco-friendly packaging.
Every purchase is a step towards a greener, more harmonious Earth."
No Muscle Soreness anymore
Recovery Mineral Bath Salts have become my secret weapon against muscle soreness. After a long day, this is exactly what I need to unwind.
very relaxing
If you're looking to redefine relaxation, look no further. Highly Recommended
Soothing Relief for Tired Muscles
As someone who hits the gym regularly, these recovery bath salts have become my go-to. I feel fresh after every use!
Ggives me energy
I love how it transforms my bath into a professional spa experience.
A Must-Have for all my Gym bros
If you're serious about your fitness journey, these bath salts are a must-have.